**SeaGhost** is wanting to start her own shrub, so she placed a few branches in water to get roots started so that she can plant them... Here we have how she started in Feb., and how much has changed in 2 months.... Good Luck SeaG.... LOL!!!
As you can see the leaves are coming on the sticks and next she'll show the roots...
Note from SeaGhost....
Hope someone can use this!
How to propagate a Confederate Rose...
When you cut back you rose save a few of the limbs...18 to 24 inches long. Stick them in bucket of water and leave in a shelter spot away from direct sunlight. Add water as needed and change out the water once in awhile. After a few months the sticks will start to grow leaves. Leave them alone until you can clearly see roots.
I'll send another picture of when they get roots. This is a picture of how they look now, almost ready to go into the ground.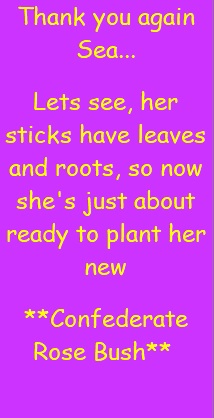 Here it is April, and her Confederate Rose sticks with leaves and roots a just about ready to plant...
Beleive it or not, SeaGhost is working on her rose transplant...
The Rose sticks have been planted....
Sea did say,
"They are in the ground! Ran out of mulch, will have to get some in the next couple of days.
Fingers crossed the sticks will grow"!!